Tesla's Insane Mode = Invaluable Reactions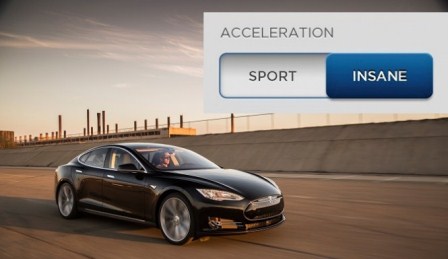 Tesla S P85D with "Insane" button
Surprise, complete shock, screams and euphoria – it is everything that becomes of part of Tesla S P85D experience.
DragTimes took some passengers for a test drive in the Tesla all-wheel drive model S P85D to manifest the power of electric cars. The car, priced at $120,000 with 691 horsepower, can accelerate from zero to 60 miles per hour in 3.2 seconds with just an "insane" button. It can reach top speed of 155 mph. This car's acceleration is similar to world's fastest sports cars and even the McLaren F1 supercar.
For each test ride with passengers, Brooks, the driver, brings the car to complete halt and then pushes the "insane" button to let the car accelerate much to the surprise and shock of fellow passengers.
Watch the video here.
Every car lover is insane for buying his/her car. If you are passionate about buying your favorite car, Car Destination can help you. Do not worry about your credit problems. Apply with company for non-prime car loans.