Primary Factors to think before buying a First-Year Car Model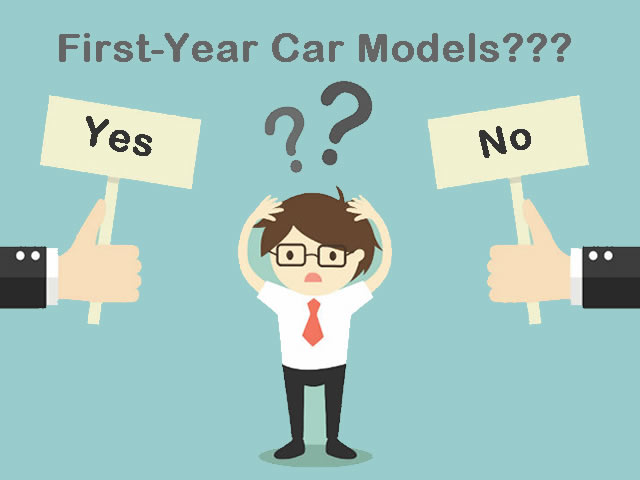 A car buying process is equal parts fun and equal parts strenuous. Buying a car maybe a necessary decision for you but you need to make sure you are buying the correct model. Often, people think that purchasing a first-year model may be an exciting decision. While another point of view stands that most problems in cars are not detected until after their second or third model is introduced. However, before you set out to buy your next car, it is important to map your choices in the appropriate manner.
The Uncertain Business of First-Year Car Models
While one may always be wary about purchasing a first-year car model, it is smart to know the details of your purchase. The following factors will help you to give a deeper understanding of first-year car models.
1) Lack of any Reliable Data
Nothing can be detected or corrected if it is being used for the first time. Automakers do several road tests in various climatic conditions as well as favorable environments before launching any car. Auto manufactures test the car's performance in extreme desert condition as well as below zero degrees. According to a report, the 2001 Jaguar X-Type was a huge failure as it was equal to its competitors such as Audi & Mercedes in pricing, but it did not satisfy the customers in terms of performance, quality & technology.
The long-term use of the car cannot be tested as it is a first-year car model. The long-term user reviews are a big element that goes missing when you opt for a new car model. With little or no reliable data, it becomes difficult to calculate the reliability of a recently introduced car model. Therefore, it is a good idea to choose a new car that has been in the market for a long time and has built goodwill on its brand as well as performance.
2) Opportunity Loss
A big reason why people shift away from first-year models is that they will miss out on the improvements in the car that will come later. Probably a car maker may feel the need to change an interior feature or add another color that is demanded by the buyers. In comparison of Hyundai Elantra 2017, Elantra 2018 scores higher as it has a number of features such as a power sunroof and three-year membership to Hyundai's flagship Blue Link Semantics services. Additionally, Hyundai Elantra 2018 also fares better than its lower models in terms of fuel efficiency and will offer you a better resale price than the 2017 model.
Buying the latest model will help you to enjoy advances features as well as the new updates that were not available in the first-year car model. Garnering enough patience to wait for a new model is a small price to pay in order to avoid an opportunity loss and regret your decision later.
Wait for It: Make the Right Decision
With the fast-paced world, the world of automobile is not far away in advancing every year. It might be exciting to purchase the first model that is launched, however, it is not without its risks. Many cars that are launched in its first year have been withdrawn from the market within a few months. Therefore, it is a wise decision to wait for the car to play out in the market, observe how it is doing and then make a purchase. Buying a second-year or third-year model will only bring in more upgrades and better technology to you.
Have you chosen the car that you want to buy? Let's begin the auto financing process so that you can buy your dream car quickly. Choose CarDestination.com to enjoy guaranteed auto loans at the click of mouse. Work with the bad credit auto financing company to enjoy best interest rates.