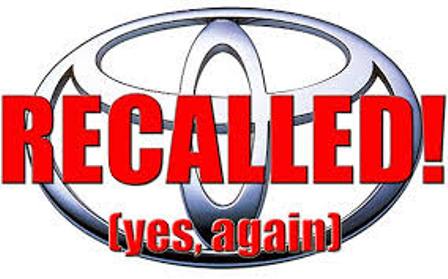 Toyota, world's second largest automaker recalls 6.5 million vehicles.
Toyota Motor Corp. is recalling 6.5 million vehicles all around the world. The recall includes 2.7 million vehicles in North America, 1.2 million in Europe and 600,000 in Japan.
Why the Recall?
The reason is a defective power window switch.
Toyota informed that there is a component inside the power-switch window on the driver's side. It didn't have enough grease applied to it. Grease was improperly applied during the manufacturing of component. As a result, debris or moisture could enter the component and cause over-heating, melting and can possibly lead to fire.
Further, the Japanese automaker said that the switch will be fixed or repaired within 60 minutes.
It is essential to know that the past recalls were made because excessive grease was applied, which could also result to fire.
Injuries due to the Defective Power Window Switch
An American person suffered a burn on the hand due to the defective power switch. The company has received 11 reports of such cases in which switch burned or part of the door burned. Seven of those cases have been reported in North America.
Is your Toyota recalled?
If your Toyota car was manufactured between 2005 and 2006 and between 2008 and 2010, it is recalled by the company. The car models include certain Corolla, Camry, Yaris, Matrix, RAV4, Highlander, Tundra and other Toyota models.
Incessant Recalls
This is the fourth time since 2009 that the Japanese automaker is recalling vehicles.
It is said that the recalls are increasing in number because automakers are adopting a proactive approach. Another reason for the increased recalls is that they are using common components among different car models. It means if a component is considered defective, a large number of vehicles are found to have installed the defective component.
Toyota is not Alone
Toyota is not alone. General Motors Co. had to recall its vehicles over an ignition switch problem. Even Volkswagen is in entangled in the rigged emission test scandal. Also, Takata Corp., Japanese supplier is currently facing problems due to defective air bags.
Amidst ceaseless vehicle recalls, it is important to choose a safe car for your family. Also, it is important to keep your personal information safe during the online auto loan process. Apply with Car Destination via highly secure auto loan application form. No obligation loan quotes are waiting for you.